Automatic irrigation system What do I need?
Automatic irrigation system What do I need?
Who has not ever wanted to have an automatic irrigation system, of those who never forget to water the garden?
Well, maybe there is someone who does not, but if you have a large garden, or you are little disciplined to water the lawn and the plants, I assure you that installing an automatic irrigation system will change your life to your garden and to you …
Last days I was looking for some implements that I needed to buy in Agrosoluciones, and browsing that page I realized that we had not yet talked about automatic irrigation systems here in the blog. That's why I decided to write today's note, so you can have the initial information you need about it and thus decide if automatic watering is something you should consider for your garden or not.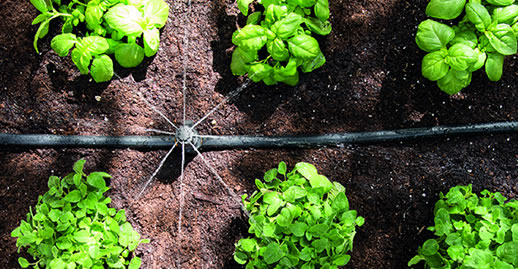 First, we will ask some quick questions that clarify some things, here we go:
In what type of courtyards is it recommended to install an automatic irrigation system?
Knowing the benefits that we will see in the next question, I would say that in all! Even the plants of a small balcony can benefit greatly from automatic irrigation in this case, by drip.
But without a doubt, the most indicated are those gardens that have an important lawn area. The grass calls for water screaming; in summer, especially, it is usually advised to water it for 30 minutes and at dawn, so I would say that those are the gardens that would benefit the most.
What are its benefits?
The benefits are many, but let's mention some, like, for example, the time saving that means you do not have to do the work manually. Nor do you need to drag the hose through the garden, which may be meters and meters.
You forget to water because once programmed, the system is responsible for opening and closing the water keys at the time you have indicated. Another great benefit is that thanks to the additional elements, such as sprinklers and diffusers, the water is distributed evenly irrigating all spaces equally.
An automatic irrigation system can work with all kinds of "subsystems" such as drip irrigation (indicated for the garden or plants in particular), sprinklers and diffusers (ideal for the lawn), underground irrigation and exudation tapes, among others.
How expensive are they? Can I install it myself?
The answer to the first question is: "depends" on both the number of elements such as work and labor vary according to the size of the garden. In any case, in general, yes, they are a bit expensive, but you will already evaluate if the investment in your particular case is worth or not.
Moving on to the second question, although it is always recommended to hire someone specialized, if you are a little "hands" and brave, informing you correctly, you can do the installation yourself. Here you can get what you need for automatic irrigation.
Can different types of irrigation emitters be combined?
If indeed, this is possible, you can install sprinklers for large areas of lawn, diffusers for the most closed areas and drip pipes, for plants in particular. It's all about planning and design.